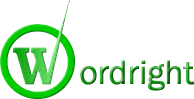 The Right Words
Templates
Don't panic. Wordright editorial services will help. We do websites. We write. We re-write. We edit. We polish. We tweak. We suggest the best. You write it. We get it right.
Stop wasting time
Do you find yourself creating the same business or personal documents over and over again? Internal forms, client forms, outgoing forms, or even simple letters of praise?
If you're not already using templates to create them, Wordright can help you streamline what may be a time-consuming and time-wasting process. You don't need to create documents from scratch each time. Templates can store all of the information you need that doesn't change from one incarnation of a document to the next — layout, company logo, address line, form fields and so on. Wordright can help you to create professional, easy to use, templates in the following software applications, and more:
Microsoft Word
Microsoft Excel
Microsoft Publisher
Open Office Writer
Medical Director (Letter Writer)
Forms
Wordright is able to create end-user fill-able forms (for example questionnaires) that cannot be otherwise modified, as templates, ready for you to e-mail to clients or to use internally. We create these forms using:
Microsoft Word
Microsoft Excel
Open Office Writer
Adobe Acrobat
Mailing lists
If you have a growing direct mailing list of clients, Wordright is able to help you automate the insertion of that client information into many related documents. Field information may be inserted to allow the automation of the following document types for use with mailing lists (or other data):
Microsoft Word
Microsoft Publisher
Open Office Writer
Please contact Wordright for more information, via telephone or e-mail, or ask us for an on-site visit to discuss your needs (anywhere in the Nambucca Valley).
Specialised small databases
Wordright may also be commissioned to create small Microsoft Access-based databases to automate many aspects of your business, starting with the insertion of client data into forms that can be directly printed out of the database, or for the printing of mailing labels (for example).
Please contact us at Wordright for more information. If it involves words, Wordright can help.
Additional information: Don't panic. Ask Wordright to help.
[ Back to top ]