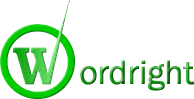 The Right Words
Professional Editing, Writing, & Web Design
Don't panic. Wordright editorial services will help. We do websites. We write. We rewrite. We edit. We polish. We get it right.
We're here to make sure it's right

Wordright specialises in websites. But we do more than that. We do the lot. Proofreading, light editing, heavy editing, conceptual editing. We're able to take care of all your documentation, whether it's business, personal, or academic. You decide what you want us to do and we will do it for you.
Can't work out what to say?
Let us write it right for you. Wordright will also ghost-write articles, advertising copy, and any other text-based information. We will get it Wordright.
Our Portfolio
Don't take our word for it. Please visit some of the websites below that Wordright has designed and implemented.
* CMS = Content Management System.
* Static = Static Site.
Your documentation is your company's public image
Don't turn clients away with unprofessional wording. Wordright checks your work, proofs it, and gets it right.
Find out more
Choose from the range of options in the site menu on the right to find out more about how Wordright can help you with your documentation.
We can help.
Additional information: Who knows the right words? Wordright.
[ Back to top ]