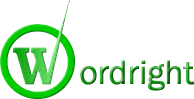 The Right Words
Contact Us
Don't panic. Wordright editorial services will help. We do websites. We write. We re-write. We edit. We polish. We tweak. We suggest the best. You write it. We get it right.
Send us your work via e-mail

Please send your electronic work copy, preferably in MS Word, Open Office Write, .doc or .rtf format, to the <editor@wordright.com.au>. Don't forget to attach your document.
Please telephone
You can telephone Wordright on: 0408 696 184
Send us work via snail-mail
You may send your hard-copy editing work to our postal box:
Wordright Editorial
PO Box 489
MACKSVILLE NSW
Australia 2447
Please include a telephone contact number or e-mail address.
Query us first
Please send your e-mail questions to <editor@wordright.com.au>
Additional information: Don't hesitate. Contact Wordright.
[ Back to top ]