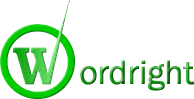 The Right Words
Business Documents
Don't panic. Wordright editorial services will help. We do websites. We write. We re-write. We edit. We polish. We tweak. We suggest the best. You write it. We get it right.
New or existing

Wordright will help you create new business documentation or polish up existing documentation so that it is error-free, and best reflects the professional standards of your business.
How we can help
Business documentation can be created from existing materials, or we can interview you or your staff to determine what is required.
Wordright is also able to help you with the installation and configuration of a networked Customer Relationship Management System (we recommend vTiger), including personalised mail-merge documents to suit.
Documents we can write and edit for you
Wordright can help with ALL of your business documentation, including:
Business letters
Advertising material
Presentations
Reports
Newsletters
E-zines
Tenders
Grant applications
Company profiles
Business plans
Proposals
Training manuals
Brochures or catalogues
Media press releases or articles
Research projects
Corporate history
Intranet information
Templates
You and your staff have better things to do than waste time on routine documentation. Wordright uses Microsoft Office and Adobe Acrobat to create fill-able forms, templates, and mail-merge files tailored to your business.

Additional information: Don't panic. Ask Wordright to help.
[ Back to top ]