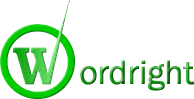 The Right Words
Desktop Publishing
Don't panic. Wordright editorial services will help. We do websites. We write. We re-write. We edit. We polish. We tweak. We suggest the best. You write it. We get it right.
We lay it out right

Wordright takes care of all your desktop publishing needs. We use the latest computing hardware and software to professionally design and layout the pages of your documentation, whether it is a book, a menu, a CD-ROM, or any other electronic or paper-based publication.
Your printer, or we'll help...
We are able to consult with a hard-copy printer you nominate in order to maximise an expedient result, or we can suggest a printer if you do not have one. Similarly, you may wish us to deliver the final electronic copy in a form that can be taken by you to a printery of your choice, or printed in-house on your own equipment. No problem. You tell us what you want, and we will look after your desktop publishing needs in exactly the way you specify.
Electronic Publication
Wordright is able to desktop-publish your documents so that they are ready for electronic publication, either on CD-ROM, DVD-ROM, or simply as a standard document in Page Description Format (PDF) that can be displayed in Adobe Acrobat Reader.
Don't forget that Wordright can also create a website for you if this is the kind of electronic documentation you require.
Additional information: Don't panic. Ask Wordright to help.
[ Back to top ]