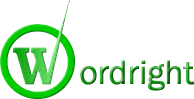 The Right Words
How Wordright Works
Don't panic. Wordright editorial services will help. We do websites. We write. We re-write. We edit. We polish. We tweak. We suggest the best. You write it. We get it right.
You send us your work online

You send your editing job to us as an email attachment, and we contact you with a price. Simple as that. We usually perform the editing on your document using the "Track Changes" feature of MS Word, and send it back to you so that you can see exactly what we've changed. If you would like us to edit/proofread and test a website, please send us the base URL and a word-count estimate. See our contact page for the address.
If we are asked to edit a document that is not in MS Word format, for example a website, we provide a separate document that lists the suggested changes.
Request an on-site visit (Nambucca Valley region)
Wordright specialises in helping small business and community organisations in the Nambucca Valley region on the mid north coast of NSW. If you would like to arrange an onsite visit to discuss your editorial needs, whether it's a template, a website, a book, in-house documents, or the creation of a newsletter please get in touch with us via the contact page.
Onsite consulting
Wordright can consult to your business and work onsite if you require it, as long as your business is located in the Nambucca region. We charge $100 for the first hour of any onsite work, and $90 for each subsequent hour.
How much will it cost?
Wordright usually charges AUD $90 per hour for its range of in-house services, nil GST. When you send us your work we assess it, make an estimate of how long the job will take, and settle the final cost with you before we begin.
Editing (see the editing page for more details) normally takes about an hour per 1400-1600 words. If we assess that your work is in need of heavier editing or even rewriting, we will let you know and quote the extra cost involved.
All work submitted online, unless it is with an established on-account client that is located in the Nambucca Valley, must be paid for up-front, online.
You can pay using your credit card, PayPal, or via a direct bank transfer. We send you an e-mail with an appropriate link to our secure transaction site.
Please send us your work well in advance of any deadline. Direct bank transfers may take up to three working days to confirm.
Additional information: Don't panic. Ask Wordright to help.
[ Back to top ]