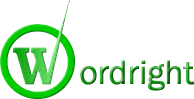 The Right Words
Personal Documents
Don't panic. Wordright editorial services will help. We do websites. We write. We re-write. We edit. We polish. We tweak. We suggest the best. You write it. We get it right.
New or existing
Wordright will help you create new personal documentation or polish up existing documentation so that it is error-free, and best reflects your personal standards.
How we can help
Personal documentation can be created from existing materials, or we can interview you to determine what is required.
Documents we can write and edit for you
Wordright can help with ALL of your personal documentation, including:
Résumés
Complaint, praise or encouragement letters
Employment application cover letters
Presentations
Reports
Newsletters
Profiles
Biographies
Speeches
Letters to the editor
Family histories (including self-publication of book)
Mailing lists
Personalised occasional cards (including DTP/design)
Personalised stationery and labels (including DTP/design)
Academic Papers
Wordright Editorial will NOT write academic papers under any circumstances. It is up to you to do the research, construct your arguments, and answer any questions that you have been posed by your tutors. We do, however, offer structural editing, line editing, and proofreading for academic work, including the following items:
Essays
Reports
Articles
Research Papers
Theses
Dissertations
Don't worry. Using Wordright to edit your work and make it clearer for the marker to read isn't considered cheating. Indeed, some tutors may suggest to students that they consider using Wordright's services for all of their important academic work. Wordright will edit your work so that it is clear, concise and falls within specified word-limits.
Additional information: Don't panic. Ask Wordright to help.
[ Back to top ]