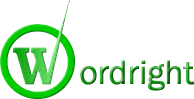 The Right Words
Books
Don't panic. Wordright editorial services will help. We do websites. We write. We re-write. We edit. We polish. We tweak. We suggest the best. You write it. We get it right.
Novels

Wordright will help with your novel in the same way we work with shorter pieces of writing. Our editorial staff are especially proficient in the speculative (science-fiction, fantasy, horror) and "literary" genres. Novel editing may begin with an assessment, which is performed in the following areas:
Setting
Character
Plot
Point of view
Voice
Metaphor, symbol and allusion
Sentence, paragraph, and overall structure
Spelling and grammar
Clarity
Fictional foul-ups
Wordright takes a particular focus in fiction editing to identify and rework the following (recurrent) problems:
Cliché
Jargon
Pathetic Fallacy
Passive Voice
Stilted dialogue
Overwriting
Mixed metaphor
Why Wordright?
It isn't easy for writers to approach their own writing objectively. Putting a manuscript aside for a few weeks before the final editing phase certainly helps, but a professional assessment with a fresh pair of eyes and a subsequent independent edit can make all the difference between acceptance and rejection by a prospective publisher.
You tell us what you want us to do and we will do it. Wordright may be engaged to simply line-edit a work that is otherwise considered to be structurally sound, or to undertake the final proofread of a novel that is ready for publication.
Please contact us for a quote.
Non-Fiction
Believe it or not, non-fiction writing often needs the same basic kind of editorial approach and techniques that are applied to novels. If you don't think characterisation is important, it might pay to give that notion a rethink.
Indeed, the best non-fiction makes use of fictional techniques to lend its "players" humanity, depth, humour, and reality. Readers must care about what they read, else they'll put it down.
Wordright focuses on the following aspects in assessing or undertaking a structural edit in any non-fiction work:
Consistency, fact
Spelling and grammar
Clarity
Sentence, paragraph, and overall structure
Setting
Character
Plot
Point of view
Narrative voice
Metaphor, symbol and allusion
Self Publishing
If you have a novel ready to self-publish, but you have no idea how to achieve the desktop publishing and other structural preparation, Wordright can help. We will take your final draft and make it ready for print or electronic publication. For an extra fee, we can also negotiate the publication process for you, using an online service such as Lulu (USA based), or a local (north coast New South Wales) "print-on-demand" printery, such as Southern Cross University in Lismore.
Please contact us for more information.
Ghost Writing
If you have a good story to tell but don't know how to write it, don't worry. Wordright can write it for you — and get it right.
Our principal writer, Ion Newcombe, has had many years of experience writing his own fiction and non-fiction articles, sold to markets worldwide, and a solid foundation in practical editing at his popular genre e-zine AntipodeanSF.
Wordright: Give us the facts. Give us the fiction. We'll get it right.
[ Back to top ]